Are you at risk of Vitamin B12 Deficiency?
Vitamin B12 is an important micronutrient that aids with proper red blood cell formation, neurological function and DNA synthesis. Some of the believed benefits of B-12 vitamin include:
Energy – because B12 deficiency causes anemia, it makes sense that by addressing this micronutrient shortage, your energy levels improve.
Weight loss – there have been reports of weight loss when taking B12 vitamin shots.
Neurological health and cognitive function
Heart health – results from trials suggest that taking vitamin B12 and folic acid reduce homocysteine levels, an amino acid found to be an independent risk factor for cardiovascular disease.
Vitamin B12 deficiency is common, especially if you're part of any of the groups below:
People taking metformin for diabetes or long-term use of heartburn medication (antacid)
Those following a strict vegan diet, including lactating women following a strict vegan diet and their infants breastfeeding exclusively
People suffering from malabsorption disorders such as inflammatory bowel disease (IBS), celiac disease, certain pancreatic disorders
Those who have had surgery that removed part of the small intestine where B12 is absorbed, such as weight-loss surgery
People with decreased stomach acidity (common in people over the age of 50)
B12 deficiency symptoms
Symptoms associated with deficiency include:
Anemia
Dizziness
Fatigue
Shortness of breath
Paleness
Rapid heartbeat
Muscle weakness and tingling in extremities
Neurological symptoms such as memory loss, dementia, depression, and paranoia.
If you feel like you meet one of more of the criteria above, checking your B12 levels may provide some answers. Micronutrient testing can be ordered through your physician or licensed healthcare provider.
Sources of Vitamin B12
Vitamin B12 is not made in the body, so it must be taken through diet, supplements or prescription medication.
Foods
Foods that contain B12 include fish, dairy products, eggs, meat, and other animal products. Here's a list of sources of B12: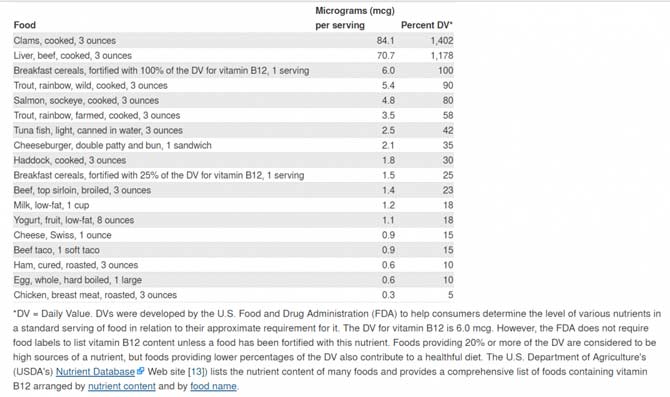 Supplements for Vitamin B12
For people who don't have a severe deficiency or nutrient malabsorption problem, supplements may be a good option to bring levels back to normal. When choosing the right supplement for you, look for one that is highly bioavailable, such as Methylcobalamin.
There are different formulations available including capsules, drops and lozenges (dissolvable tablets.)
Vitamin B12 Shots
For patients who have absorption issues, have a severe deficiency, or are looking for fast relief of symptoms, B12 injections may be a good option. After checking your B12 levels, your healthcare provider may decide to prescribe B12 injections. As with dietary supplements, not all vitamin B12 shots are the same. The most common types of are cyanocobalamin, hydroxocobalamin and methylcobalamin. When speaking with your doctor and looking for a pharmacy to fill your prescription, ask whether methylcobalamin is right for you. Methylcobalamin is the most bioactive type of vitamin B12 and injections can be made in higher doses. It's also preservative-free.
B12 injections are considered safe since vitamin B12 is water soluble and the body gets rid of any excess. Only minor reactions have been reported by some patients, such as pain at the injection site.
Questions about vitamin B12? Contact one of our pharmacists for more details.
If you're interested in setting up a consultation, give us a call or email us!